The new BPH Community is here!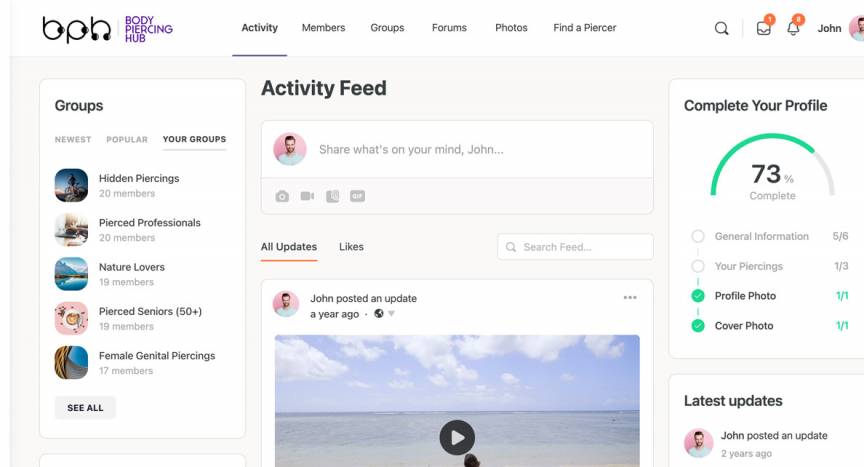 We're super excited to announce that the brand new version of our Body Piercing Hub Piercing Community & Social Network is now online.
Our goal is, and has always been, to create the biggest and best piercing community on the web. We've listened to feedback from loads of our 600+ current members on how we can introduce better features and make it easier to use, so we're excited to share with you some of the things you can expect in Community 2.0:
We've moved it to a new home: You might not have noticed, but the new home for the BPH Community is now community.bodypiercinghub.com. We've decided to separate the community site and forums from the main www.bodypiercinghub.com information sections and public piercing galleries. This will make the community less cluttered and easier to navigate. Your account details will stay the same so you won't need to do anything. For all the new profile fields we've added, you'll see a reminder to update your profile to fill in the blanks.
Completely overhauled image sharing and viewing experience: Upload images to your profiles and groups you're in, not just to the public galleries, and an better viewing experience especially on mobile devices.
A better chat experience: Our old messenger is pretty clunky, we'll admit, and more like an email system. So, we've made our messenger more like a chat system so it'll be way more conversational.
Interactive feed/wall: Get updates from all your friends, people you follow, groups and forums all in one please on your new personal homepage.
Easily search members: Find other members by location, piercings they have, and loads more.
Better notifications: Mark them all as read, hide the annoying ones, and now with both email and push/browser notifications in near real-time.
Sharing is caring: Share to other platforms easier and easily invite your friends to the BPH community.
Less annoying or intrusive ads: To monetise our traffic, our current community has display advertising that usually is based on your browsing history and interests. We're working on a new system to serve more relevant ads to you and stop getting in the way to make your experience better.
Search the whole site: Find conversations about things you want to know in groups and forums simultaneously with our new search bar.
Nudity will be allowed in images: For some of you this might sound weird, but a lot of you love sharing photos of your intimate piercings, so we're enabling better ways to share these (and ways to hide them from your feed if you don't want to see them too).
For new users, an easier sign up and onboarding process: We've streamlined the sign up process and made it easier to get started.
A modern-look: Bringing the browsing experience into the 21st century on all devices.
+ loads more.
What's next?
If you're already a member – Log in to your account here and let us know what you think by commenting below.
Not a member yet? Sign up here for free and have a look around. It's great to have you here 🙂